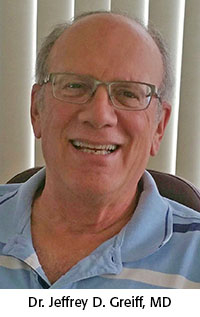 Broward Palm Beach Florida Family Medicine Physicians. Family Practice Dermatology Associates LLC in Plantation, Florida and Dr. Jeffrey D. Greiff have been caring for families in the South Florida area for over over 40 years. His primary care practice is dedicated to providing the best treatment options available for teens through adults of all ages and gender.
Dr. Greiff's proactive patient care started years ago by bringing vital tests in house. Conveniently providing EKG (Electrocardiogram, ECG), Pulmonary Function and Blood Work testing allows him to shave days off diagnosis and treatments while lowering costs to patients.
A patient's main source for regular medical care, ideally providing continuity and integration of health care services. All family physicians and many pediatricians and internists, practice primary care. The aim of primary care is to provide the patient with a broad spectrum of preventive and curative care over a period of time and to coordinate all the care that the patient receives.
Why is choosing a Primary Care physician important?
There are various benefits to having a primary care physician. Your Primary Care physician will get to know you as a whole individual, becoming familiar with your medical history and lifestyle. If you are ever sick and in need of medical care, the time you invest in building your relationship with your primary care physician while you are healthy will ultimately pay off. We understand that selecting a primary care physician who meets your health care needs can be challenging. Family Practice Dermatology in Broward County Florida we are confident one of the primary care physicians will meet your health care needs.
FAMILY PRACTICE DERMATOLOGY
499 NW 70th Ave Suite 211, Plantation, FL 33317
(954) 583-4647